With Snagit's easy-to-use tools, you can quickly create images and videos to give feedback,
solve a problem, or show off something cool. Snagit empowers you to communicate efficiently
with visuals that give your ideas clarity and help you explain any subject. See for yourself.
The more you use Snagit, the more ways you'll find to use it.
Capture Anything
Video Capture
Clearer communication.
Show them what you do, and how you do it! Using MPEG-4 video format
you can now create screen videos for demos or quick reviews, and share
them instantly to YouTube, Facebook, and more!
All-in-One
Snag anything, on the fly.
Grab your entire desktop, a region, a window, or
a scrolling window—all with a single hotkey or click.
Time-Saving Profiles
Create the perfect capture.
In addition to the basic capture profiles, use these time
saving options to capture and share content in one click.
---
Enhance Your Images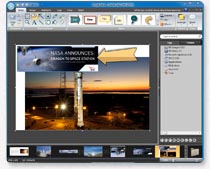 Combine Images
Easy multi-tasking.
Create custom graphics easily by taking multiple
captures and putting them together.
Spotlight and Magnify
Highlight what's important.
Draw attention to a specific part of your image. Just
select the portion you want and Snagit will blur and
darken everything else.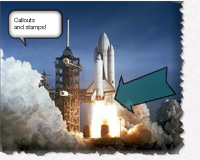 Markup Tools
Enhance with effects.
Add effects to your image, even if you don't have a design
degree. Draw attention with arrows, hide sensitive information
with a blur, add a text callout or torn edge effect… just to
name a few.
---
Work Efficiently
Auto-Storing
Organize images.
All of your captures are automatically
saved to your Library, with the most
recent captures viewable all the time.
Save time by quickly finding all your
past captures.
Spell Check
Create error free callouts.
Never misspell a word in your screenshot again! Snagit will tell you what you've spelled wrong and help you create consistently error free callouts.
Tagging
Flag it for later.
Along with saving your capture, Snagit
also stores information so you can find
it again later. Search for your captures
by date, website, or a custom flag that
you create and assign.
---
Share with One Click

Video Outputs
Share your videos quickly.
When you're ready to share your Snagit video, you can
choose from Camtasia Studio for editing, Screencast.com,
YouTube, FTP, Facebook, or Twitter.

New Image Outputs
Send your images to even more destinations.
Share your images with anyone! Choose from the usual lot,
plus the new additions of Facebook, Twitter, and Evernote.

Trial version


Print this page